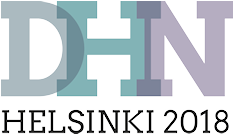 Conference Agenda
Overview and details of the sessions of this conference. Please select a date or location to show only sessions at that day or location. Please select a single session for detailed view (with abstracts and downloads if available).
Session
Plenary 4: Frans Mäyrä
Time:

Friday, 09/Mar/2018:

2:30pm - 3:45pm


Session Chair: Eetu Mäkelä

Location: Think Corner

Game Culture Studies as Multidisciplinary (Digital) Cultural Studies. Watchable also remotely from PII, PIV and P674.
Session Abstract
In his talk, professor Mäyrä will approach the current state and development directions of game studies. Set within the framework of digital culture studies, the potentials and challenges of multidisciplinary approaches have to be recognized as key elements in the study of interactive media, which is essentially both designed media, and interactive performances (gameplay) of its users. As the founder of Game Research Lab in the University of Tampere, Frans Mäyrä will tap into the lessons derived from over 50 game research projects he has led, and also highlight the future agenda set for the new Centre of Excellence in Game Culture Studies.